Cowichan Valley Land Surveying
Polaris has been providing land survey services in the Cowichan Valley for over 20 years and has two BC and Canada Land Surveyors based in the community, along with multiple field crews and technologists to support a variety of surveying projects. Our client base has grown to include public sector institutions, municipalities, land developers, builders, and First Nations communities. We also provide service to private landowners for a range of surveys including property line surveys, site/topographic surveys for permitting, location certificates as well as subdivision and strata surveys and consulting services.
Surveying in the Cowichan Valley - Our Services
Parts of the Cowichan Valley were surveyed in the mid to late 1800s by settlers, and large parts of the area fell under the E&N Railway Grant. With its lush valleys, abundance of water bodies combined with a complex history of land surveys, the Cowichan valley is a challenging place to work with no shortage of adventures. Our daily work takes us from Ladysmith to the Malahat, to Lake Cowichan, Cobble Hill and everywhere in between. We have been involved in many intricate boundary surveys, natural boundary surveys and development projects around the valley and have gotten to know our community well. We enjoy helping landowners understand their boundaries and navigate the approvals process and we are always up for a challenge.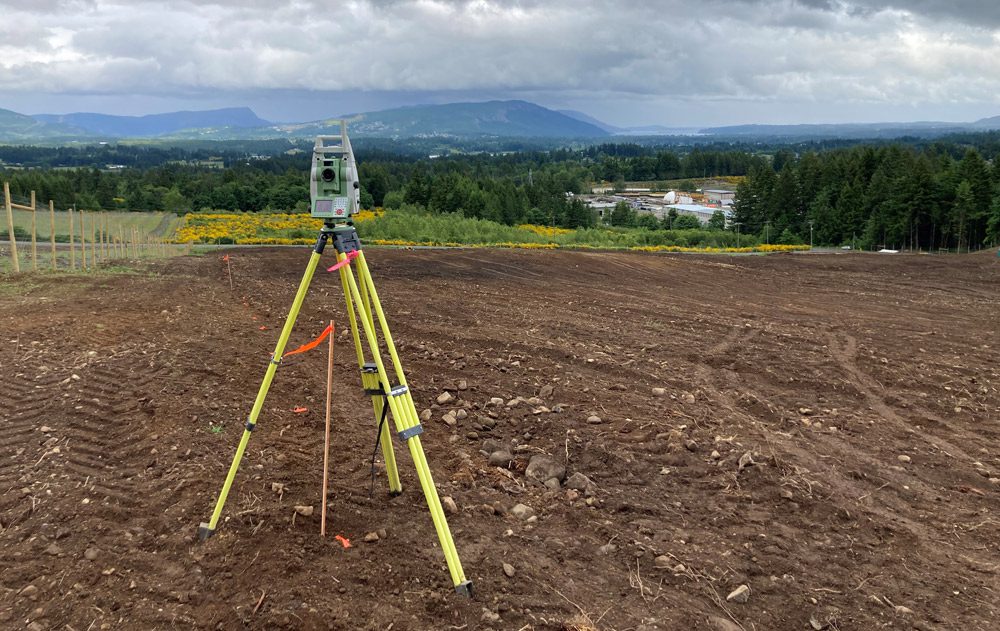 Subdivisions
Do you have a subdivision project in Cowichan Valley? Subdivision plans are a necessary constituent to subdivision development. Our land surveyors develop these plans through rigorous surveys, dialogue with approving authorities and meetings with neighbours. Polaris holds over 20 years of experience navigating the subdivision plan process in Cowichan Valley. Allow our team to help establish new land parcel boundaries and associated titles on your lot. Contact Polaris today for your next subdivision project in Cowichan Valley.
Building and Bare Land Strata Projects
Interested in strata development in the Cowichan Valley area? Polaris Land Surveying is experienced in both condominium and bare land strata projects. Our surveyors are well-versed in the Land Title Office's current strata subdivision policies as well as statutory and non-statutory municipal planning requirements. Allow Polaris to prepare supporting strata documentation for your next project in Cowichan Valley.
Boundary Retracement and Re-Establishment Surveys
Looking to make additions to your property in Cowichan Valley? Understanding boundary lines is important to any construction project. Our land surveyors handle boundary retracement and re-establishment surveys in Cowichan Valley. Polaris will research property records as well as previous surveys and study the deeds of the property to establish land boundaries and descriptions. Surveys are electronically filed in the land title office - contact our team today for more information.
Topographic and Site Plans
Constructing a new project in Cowichan Valley? Development projects of all sizes can make use of topographic surveys. These detailed mappings are critical to site planning - whether you are working on a backyard update or a new subdivision, topographic surveys will outline natural elements and manmade structures on your property that affect construction. Polaris uses standard and aerial techniques, plotting and processing our data to develop accurate and detailed mappings. Contact our team in Cowichan Valley today for more information.
Construction Layout Surveys
Construction surveys are a critical first step to any effective construction project. If you're developing a lot in Cowichan Valley, let our experienced land surveyors outline new building elevations as well as grid and wall line layouts relative to property lines. Our state of the art equipment ensures we deliver construction layout services with expert precision, so you can feel confident in your construction plan. Contact our Cowichan Valley team today to obtain a quote.
British Columbia Land Surveyors Location Certificates
Purchasing land in Cowichan Valley? Many banks require Building Location Certificates, or Mortgage Certificates as a component of financing agreements. These certificates outline the land, existing structures and rights-of-way on the lot including encroachments on or off the property. Polaris will research existing plans and previous records to establish property lines and all other structures on your lot. If you're planning on renovating your home, topographical detail must be included in this plan to allow the municipality to establish that your renovation will comply with building zoning requirements. Our state of the art equipment allows us to conduct fieldwork with precision and deliver highly accurate plans. Contact our surveyors today for your Location Certificate needs in Cowichan Valley.
Some notable Polaris projects include ongoing legal, topographical and construction surveys at Brentwood College, ongoing community planning and infrastructure surveys for Malahat Nation and natural boundary surveys along the Chemainus River, and Shawnigan Lake.
Serving Cowichan Valley - Our Commitment to Quality Land Surveying
Reputability and dependability are crucial in the surveying industry. Polaris is Vancouver Island's leader in surveying, with over 20 years of experience serving Cowichan Valley. Our surveyors are committed to remaining timely and professional, and we understand the deadline-driven development industry. With experience in both complex development projects as well as smaller home development, Polaris holds every service delivered to the highest standard.
Contact Polaris For Your Next Cowichan Valley Land Surveying Project
With our dedicated office in Cowichan Valley, Polaris aims to respond quickly to your commercial, residential or recreational project needs. Our surveyors in Cowichan Valley are happy to customize your service, offering anything from topographical surveys for backyard projects to subdivision plans for strata development. For more information about us or to obtain a quote for your next project, please contact Polaris today.
Interested in working with us or have any inquiries? Get in touch.